On this page you'll find a curated list of some of the best free resources available for learning Spanish.
That includes books, podcasts, apps, and websites.
Other than the books, everything is free. (And the books are pretty cheap.)
First I'll share a few tips about the best way to use these learning tools, and then we'll get right into the list.
Here we go. 🙂
How To Be Successful With These Resources
I'd recommend you pick 1 or 2 learning tools from each category (don't overdo it),
Create a simple daily schedule to study and practice, and put in at least a few minutes each day.
Start small, and make it easy at the beginning, so you don't feel overwhelmed. Every little bit helps, and starting easy makes it more sustainable.
For optimal retention, try to use all your senses. In other words, read, write, talk, listen, and even move your body when possible.
Don't be scared to make some mistakes. That's totally normal, and everybody messes up.
I also wrote a strategy guide about the best way to learn Spanish quickly. It walks you through the process from beginner all the way to becoming fluent. So check that out as well!
Now, without further ado, here's my curated list of the best free resources for learning Spanish.
---
The Best Books for Learning Beginner Spanish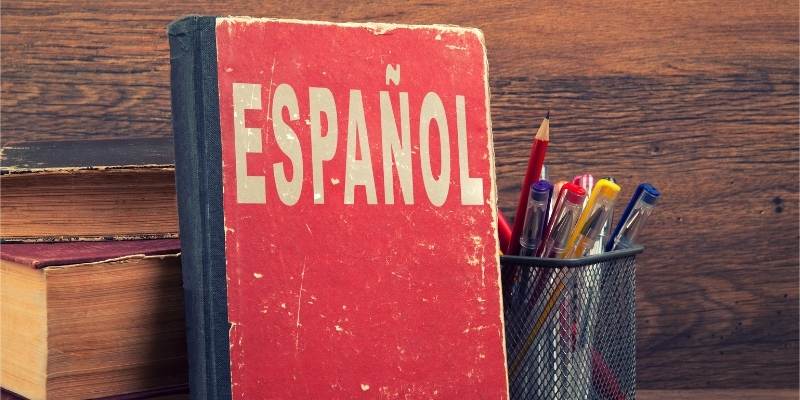 Why books? Of all the learning tools, books tend to be the best organized and most comprehensive. They provide the fundamentals you need to put everything else in context.
If you love books, great. If you hate books, pick one anyway. Then work your way through it a little at a time, and use it as a reference whenever needed.
Designed for "homeschoolers" and other self-learners. Takes a relaxed, gradual approach to learning by using fairly easy lessons with longer explanations. The lessons build on one another and include exercises for practice.
Promotes a more intuitive approach to learning, and teaches principles that are supposed to make you self-sufficient and adaptable as you continue to learn. For example, you'll learn patterns to convert English words into Spanish based on the word-type.
Also covers grammar, but focuses a lot on vocabulary and word roots.
Fairly concise grammar review, that also includes workbook-type exercises.
Focuses on teaching you how Spanish is really spoken. Uses realistic examples, and many different types of learning exercises.
5. Supplementary Book Options
Here are two more books that are quite inexpensive and would work well as supplements to the others above (though I wouldn't recommend them as your only resource).
Includes visual aids, helps you build small sentences and answer simple questions, and also reviews some grammar.
Has a lot of helpful vocab and built-in pronunciation help.
Disclaimer: As an Amazon "affiliate", I can earn a small commission from purchases (at no additional cost to you).
---
The Best Podcasts for Learning Beginner Spanish
Why podcasts? Active listening is essential for learning a language, and using a podcast means you can practice on the go (like while driving or working out).
Pick one or two podcasts to start, try them out. You can always switch to a different one if you get bored or run out of episodes.
(SideNote: Options abound, but my favorite podcast app is "Podkicker Pro" using a setting called "classic mode". I've tried several apps but keep going back to that one.)
1. Discover Spanish
An older podcast (the latest episode was 10 years ago!), but I still think it's worthwhile. After all, basic Spanish doesn't really change. 🙂
"Johnny Spanish" and Cristina teach you words and phrases and help you practice them, starting very basic and progressing gradually. Energetic, motivating, and lots of chances for practice. Includes pronunciation tips.
How to get it: Search "Discover Spanish" on your podcast app.
2. Lightspeed Spanish
Originally started by Gordon (from England) and Cynthia (from Spain), who explained how to use different words and phrases and then showed you in dialogues. Now divided into 4 podcasts depending on your skill level. Very insightful about some language nuances that you otherwise may not grasp right away.
How to get it: Search "Lightspeed Spanish" on your app. (Don't type "Light Speed Spanish" — that brings up something different.)
3. Notes in Spanish
Ben (from England) and Marina (from Spain) are a married couple who share Spanish dialogues and break down vocabulary and other concepts. Conversational and pleasant. They have separate podcasts for beginner, intermediate, and advanced learners.
How to get it: Search "Notes in Spanish" on your favorite app. Or here's the Apple Link.
4. Coffee Break Spanish
A Scottish gentleman explains how to use different words and phrases, with sample dialogues for practice. Various guests. His philosophy is to introduces concepts gradually for less stressful learning. Conversational style. Somewhat annoying ads.
How to get it: Search "Coffee Break Spanish" in your favorite app.
5. News in Slow Spanish [for Listening Comprehension]
I wouldn't recommend using this alone, but when you're ready to practice listening this is a decent option. The narration is nice and slow, so it's fairly easy for beginners to understand. (By the way, you could accomplish something similar by finding any Spanish-language podcast and playing it at a slow speed.)
How to get it: Search in your favorite app.
There are plenty of other podcasts that can help you learn Spanish. Any of the first 4 from this list will make a good starting point, but keep trying new ones as times goes on.
---
The Best Free Apps to Learn Spanish
Why apps? Apps help with repetition, practice, and keeping things fun.
There are some great apps for practicing and reviewing Spanish. It may be tempting, but don't try to use an app as your only resource. They work best as a supplement to your other learning tools.
1. Duolingo
Choose your difficulty and work through the levels, one exercise at a time. Feels a little like a game, and tests your reading, writing, speaking, and listening. Well-produced app, probably worth trying out.
How to get it: Just search "Duolingo". Or use this Apple Link or this Android Link.
2. Memrise
Solid app. Teaches words and then quizzes you, helpful for repetition and practice through various types of exercises. Includes some mnemonics. Has a "pro" version that requires a subscription, but you can do a lot for free.
How to get it: Just search "Memrise", or use this Android Link or Apple Link.
3. Beelinguapp
Tons of Spanish reading material with the English translations. Voiceover narration from voice actors. Great for reading out loud, and for practicing your reading or listening comprehension.
How to get it: Search the name, or use this Android Link or this Apple Link.
4. Learn Spanish – 15,000 Words (name varies – see below)
Great for learning vocab. Various categories such as food, people, home, or health, and lets you choose what type practice to do. Includes pictures, and pronounces words for you.
How to get it: Apple Name: "6000 Words – Learn Spanish Language for Free". Android Name: "Learn Spanish – 15,000 Words".
5. Learn Spanish Phrases
Also really good for vocab. Includes words and sentences in several categories. Some content free, other parts require purchase. Kind of like a list of flashcards, so also good for reviewing.
How to get it: Try searching the name, or you can use this Apple Link, or this Android Link.
There are many more apps you can peruse, including some pretty decent dictionaries and translator apps. But any of the ones on this list would be a good starting point as well.
---
The Best Free Websites for Learning Spanish
Why websites? Websites have practically unlimited information, and they're easy to search. So they're great as references. Some of them are useful for practicing, as well.
Here are a few good ones I've found:
Helps you review grammar, pronunciation, verbs, and more. Best site I've found for a broad coverage of grammar.
Includes lessons on grammar and other topics. Good overall, but not as comprehensive as the first site. Also has audio pronunciation in some parts.
Not exactly mobile friendly, so probably better to use on a computer.
Has video interviews, vocab lists, definitions of phrases, grammar, and downloadable audio. Content from beginner (like how to count to ten or how to describe yourself) to advanced (like how to give a talk in a high school class).
Clickable vocab lists, as well as a searchable pronunciation dictionary. Lets you hear people from different countries pronounce words, so you can compare Spain vs Mexico, for example. Also has a list of essential words and phrases for traveling.
Hasn't been updated in a while, but this blog delves a little deeper into some nuances of the Spanish language, such as sentence structures or idioms. Useful if you know a little bit and want to wrap your head around the way things work a little more.
---
You've Got Some Resources to Learn Spanish…Now What?
As I mentioned above, also check out my strategy guide for learning Spanish.
It walks you through step-by-step how to use these resources, from when you're just a beginner all the way up to becoming fluent.
Here's the main idea-
Choose a few resources, make an easy daily plan that doesn't feel overwhelming, and get started.
Even better, tell someone about your goal so you can have an accountability partner.
A Few Other High Points From the Strategy Guide:
Utilize all your senses while studying and practicing.

Read
Write
Talk out loud
Listening intently
Move your body

Get out of your comfort zone–don't be afraid to mess up.
Put in a little time every day, even just a few minutes.
Set reminders and have an accountability partner.
Every little bit will help, and chances are you'll progress faster than you expected.
Final Thoughts
At this point, you may have more Spanish learning resources than you know what to do with.
Take a moment right now to plan how you'll use them. Don't do it "later"…or you'll probably just forget.
It can be as simple as practicing for 2 minutes a day, and starting small is actually a good strategy!
As you start learning, not only will it become easier to talk with your patients (the main goal of this site), you'll also be able to do fun things like…
Order delicious tacos. 🙂
And there you have it.
If you'd like to check out some others posts on basic Spanish, take a look at my Spanish Pronunciation Rules Guide, 100 Essential Words in Spanish, or Very Basic Spanish Grammar.
And here's the full list of posts about Spanish fundamentals.
Hope it helps!